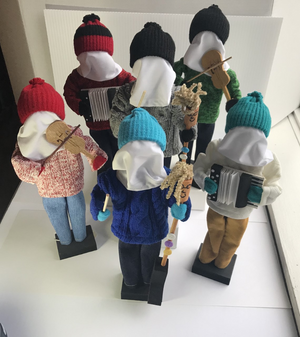 Mummers with Ugly Sticks, Accordions or Fiddles
---
These standing Mummers are handmade in NL. by artisan Jackie.  Each Mummer's body frame, the clothing, the musical instrument and the base are hand crafted. The Mummers are approximately 30 cms. tall including the base which measures 5 cms from front to back. 
Mummering is a Newfoundland Christmas tradition.  In Petty Harbour, from December 26 to January 6, it was customary for adults to gather in small groups, disguise their identities with whatever clothing and household items they have on hand and then call on their neighbors.  Using a stick to knock on someone's door, the Mummers shout in a disguised voice "any Mummers lowed in?". 
Once inside, the fun and merriment of entertaining their hosts begins. Usually one or more of the Mummers is a fiddler and/or an accordion player.  Many in the group of Mummers will carry an Ugly Stick. 
---
---